When you're building a new home, or renovating your existing home, it's important to consider what type of energy you'll use to make it warm, dry and comfortable. For many Kiwis, this is the perfect time to connect to the gas network, so you can enjoy all the versatility of gas appliances in your home.
If you're already doing work on your property, it's the ideal time to incorporate a gas connection. Your gas connection allows you to install the gas appliances of your choice, and by starting early in the design process, your appliances can be integrated into your home seamlessly. When renovating, you also have the option to retrofit gas appliances, even into very old homes.
Endless hot water and a cosy space
Gas can be a cost-effective method of heating your water, warming your house, and cooking.
Endless hot water showers are a major selling point for gas, especially for large families. Because gas heats the water as it comes out, rather than heating up a certain quantity of water and leaving it sitting there, you'll always have instant hot water. No matter how many teenagers shower in the morning, or how many loads of washing you do, you'll never find yourself short of hot water. Gas is highly cost-effective for heating water, at between 10c and 17c, compared to 13c to 35c for electricity.
Gas also gives you a range of brilliant home heating options, from fireplaces to underfloor heating to radiators. This can give you that winter comfort, even at low temperatures, that a heat pump can't always deliver – and warm up a room quickly and evenly.
Cooking with gas is also a joy, which is why it's the first choice for 94% of New Zealand chefs according to a survey done by the Restaurant Association of New Zealand. Other types of cooking can't compete with the precise, instantaneous heat that gas provides.
A premium living experience that can add value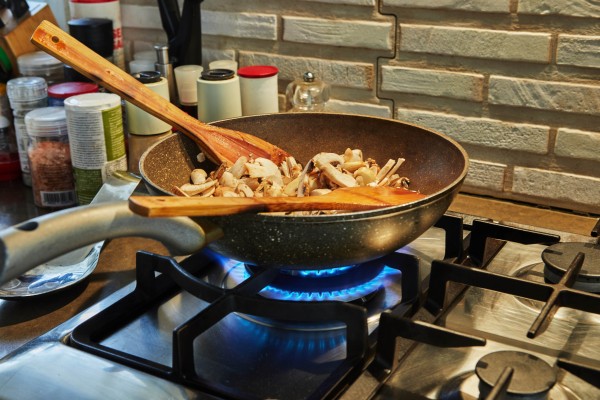 A home with gas can provide a more luxurious living experience – gas fireplaces, in particular, create a magnificent centre piece for any home. It's possible to fit a gas fireplace that bridges two rooms, or can hang from the ceiling, or situated outdoors; they're stylish and practical in almost any part of the house.
Then there's your gas cooktop, which delivers restaurant-quality cooking, and the endless hot water.
The total package means that homes with gas can provide an outstanding living experience. As a result, that gas connection and your high-quality gas appliances can really add value to a home. This means the money you spend on a connection may be easily repaid by the home's higher resale value.
Reliable hot water and cooking, even if the power goes out
Gas makes your home more independent of the electricity network – if there's a power outage, you can continue to enjoy hot water, gas cooking and some gas heaters. Provided the appliance doesn't rely on electricity, it will still operate during a power cut.
A gas connection gives your home great energy independence, so you'll be comfortable even when the electricity grid isn't delivering power to your property.  
How today's gas is changing to renewable gas in the future
As one of New Zealand's largest energy groups, Clarus has the future of gas in our sights while at the same time making sure our customers are delivered gas safely and reliably, right now. 
Thanks to extensive research over the past few years and close monitoring of international efforts, we're leading change by actively researching, innovating and investing our way to 2050's net zero carbon goals by exploring the possibilities of low carbon, renewable gas like hydrogen, biogas and bioLPG. You can find out more about the future of gas here. 
Getting connected
Is your home ready to connect? You can found out more about connecting to gas here and look up your address to see whether your home is ready to connect. Get in touch using our online application form once you're ready to connect. For some homeowners there may be no cost to connect.